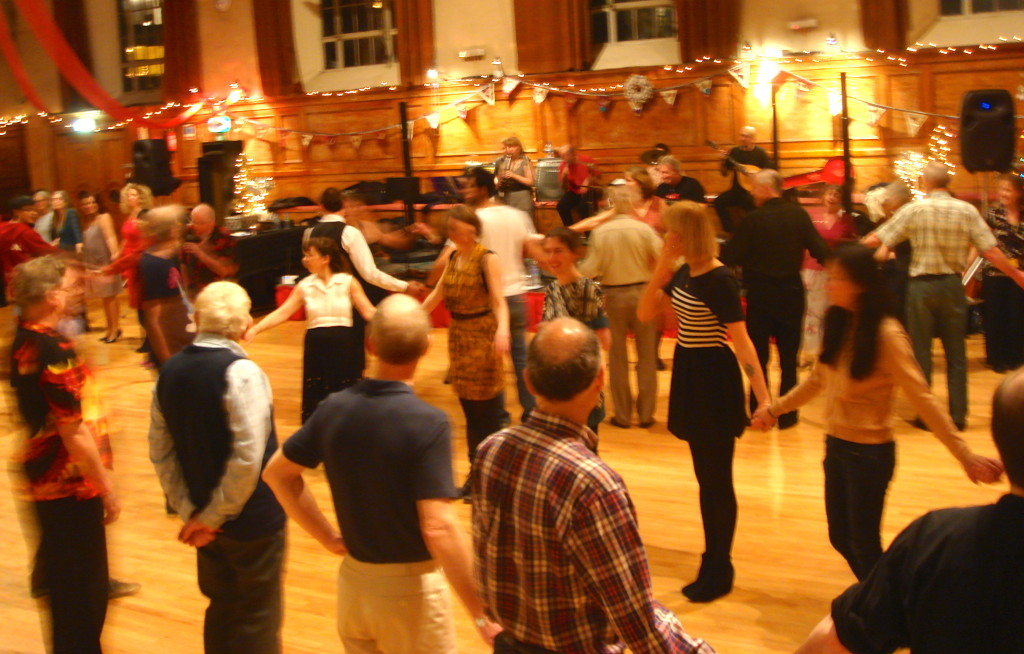 WE CAN PROVIDE THE FOLLOWING

Dance music for two to three hours
A typical barn dance of ours runs from 7.30-10.30 or 8.00-11.00 which includes a break roughly halfway through the evening.
Alternatives
Recently, we have been asked to fit into a mixed programme like this:
• 8.00-8.30   – Other music, e.g disco*
• 8.30-9.15   – Dancing to The Hosepipe Band
• 9.15-9.45   – Buffet break
• 9.45-10.30 – Dancing to The Hosepipe Band
• 10.30-late  – Other music *
* Please note – we do not provide other music
A caller to explain the dances. At most weddings and private celebrations, only a few if any of the guests are experts in this kind of dancing. Our callers are experienced at working with complete beginners and have a range of dances suitable for all abilities and ages, including children and the elderly. They can also provide more challenging dancers for experienced dancers if requested.
A full PA system to ensure that the music and the caller's instructions are heard. All our equipment is PAT tested regularly.
Music to listen to. We can provide  background music before the dancing begins and/or during the interval. If you have a particular piece of music you wish to hear, we have an MP3 player which we can link to the main PA system. Or we can put a playlist from your equipment through our system.
OTHER CONSIDERATIONS

Cost This is made up of a basic fee plus travel expenses. We ask for a non-returnable deposit on booking, with the balance payable two weeks in advance of the event.
Access We need to access to venues an hour before we are required to start playing in order to set up our equipment. We take only half an hour to clear away and leave the venue after we have played.
Power supply We require a normal electricity supply for our PA equipment.
Playing area The band playing area should be approximately 15 feet x 10 feet. While we normally play on a stage of some kind, we do not play on farm trailers or straw bales. We are happy to play at floor level – as long as we are not at risk of being crashed into by dancers!
Food We can be at a venue far from home for considerable lengths of time, so we would expect to be provided with nourishment of some kind during an evening. At some events we are invited to share food with the guests; at others we are provided with a separate snack.
THE NEXT STEP

Find out more about the band on other pages of this website.
Contact us to discuss your detailed requirements. We are a competitively priced band, so make sure you ask us for a quote. See our Contact page
To hear what we sound like, listen to sample tracks from our recordings, highlighted in green on our Music page. These are a  mixture of dance tracks and listening tracks.
It may be possible to see us play live before you book us. Look at our Gigs page to see if any of our public bookings are near you. If this is not possible, we can supply references sent to us by people we have played for. You can also see our Testimonials page
If you wish to book us, we will send you a booking form to complete and return with your deposit. The form includes details of the venue, times and contact details. We also ask you to give us the name of the person to contact when we arrive at the booking. This will usually be the event organiser; in the case of weddings it could be the Best Man.
Great article from the Metro that might help you choose a ceilidh.

10 reasons why it's better to have a cèilidh at your wedding than a disco