January 2018
We've had a quiet Autumn, but had a great night at Clopton Village Hall playing for their New Year's Eve Ceilidh. Our band on the night was Simon, Val and Matt Haines with Phil Lyons on bass and caller George Monger.
We loved doing those Cecil Sharp House dances for six consecutive years, playing from 8.00 – 1.00 am without a break, leaving home at 3.00 pm and getting home at 3.00 am, but there's nothing like a local gig close to home with lots of friends.
Here are a few photos of  the lovely event.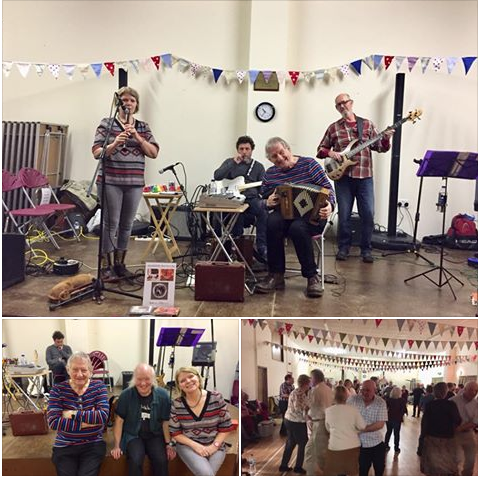 July 2017
It's been an interesting and eventful year, though perhaps a little less busy than last year.  As well as the "normal" barn dances, ceilidhs etc. for weddings and parties, we've played at two literary festivals. In March, we rounded off The Essex Book Festival at Colchester Arts Centre following the burlesque ballet dancer Iestyn Edward, and in June with Martin Newell, we launched the Felixstowe Book festival. This was essentially our music and poetry show, but we managed to get some of the literary dignitaries to do a couple of dances.
We also played for a ceilidh at the Harwich Festival at the amazing Redoubt Fort, again performing with Martin Newell for part of the evening. We did a similar gig at Attila the Stockbroker's festival, Glastonwick in deepest Sussex in May.
In addition to these events we played the Friday evening ceilidh at St Neots Folk Festival and at the National Sheepdog Trials, held, this year at Haughley Park, near Bury St Edmunds in Suffolk.
August 2016
Fun weekend at Folk East. Workshop and Ceilidh with caller Barry Goodman.  Thanks to Stephen Stíofán Matthews for the photo.

The previous weekend we did two ceilidhs at Broadstairs Folk Week: the first was the family lunchtime dance in the Pavilion with caller Gordon Potts, and the second the final festival ceilidh in the sports hall of the school with Alex Cumming – a slightly lower key affair owing to the lateness of the hour and the fact that a fair few people had gone home.
March 13th 2016
Great night playing for Oxfolk last night at Kennington Village Hall. Big band: Val, Geoff, Matt, Simon plus Nel on drums and Cara on keys, not to mention spiffing calling from Adam Hughes. Thanks to Jane and all the crew for the super organisation.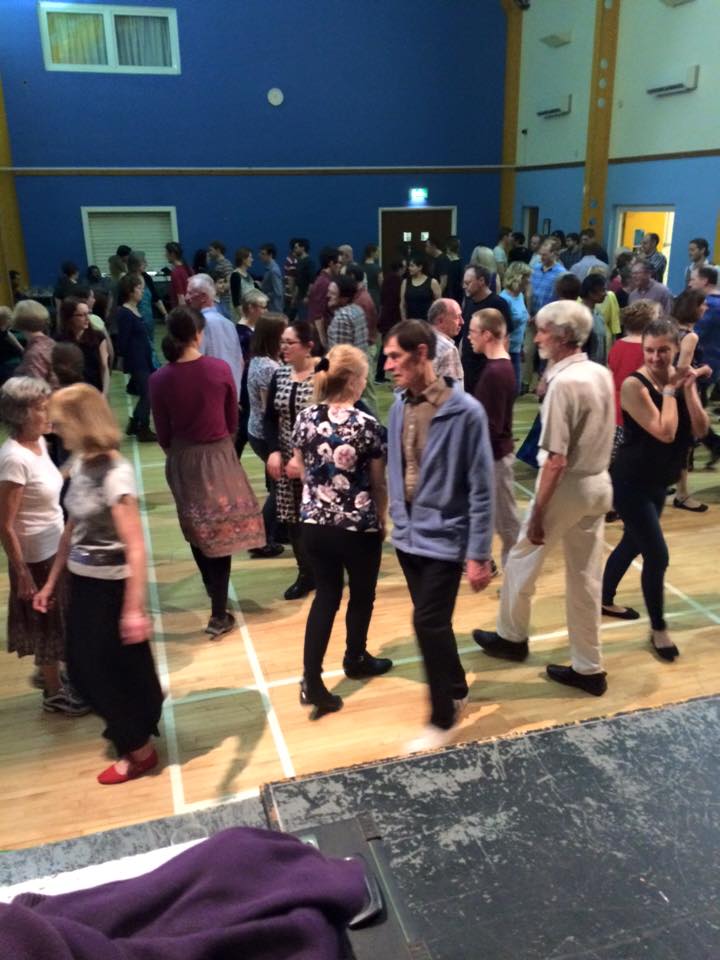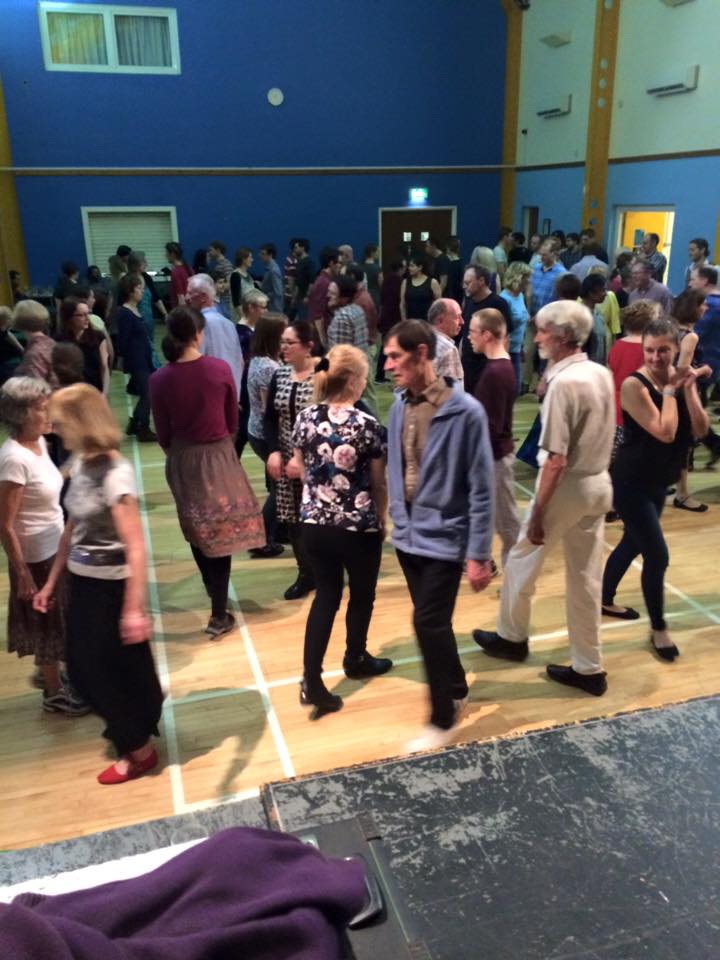 March 2016
We have  been lucky enough to be asked to play at Folk East Festival again this year – on the weekend of 19-21 August. We will be playing for a ceilidh and once again performing with Martin Newell. This year we will be doing Black Shuck and a new poem The Green Children. We will also be performing these two poems at Latitude Festival on Saturday July 16.
November 2015
Available once again – the book of dance tunes for melodeon, recorder, bagpipes, and other folk instruments, composed by Val Woollard and Simon Haines and played by The Hosepipe Band and other bands they have played in. Price 7.50 (incl. postage) – see Shop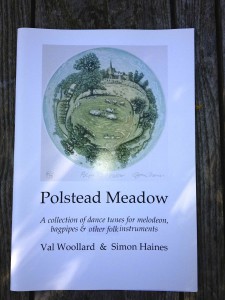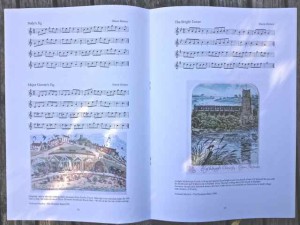 October 2015
We've spent much of the summer working on a new project with the Essex musician and poet Martin Newell. Having been captivated by one of Martin's long poems The Song of the Waterlily – the building of a boat, a forty-five verse poem divided into four sections and accompanied by powerful woodcut illustrations by the artist James Dodds, I imagined how interesting it would be to compose some music to accompany public readings of the poem. Happily, Martin Newell seemed keen on the idea and gave us the go ahead, saying he'd be prepared to do readings backed by our music. So, what next? I realised that if I (Simon) were to compose all the music, everything would sound samey and probably too "folky", so I suggested that each member of the band compose music in their own style to accompany specific parts of the poem.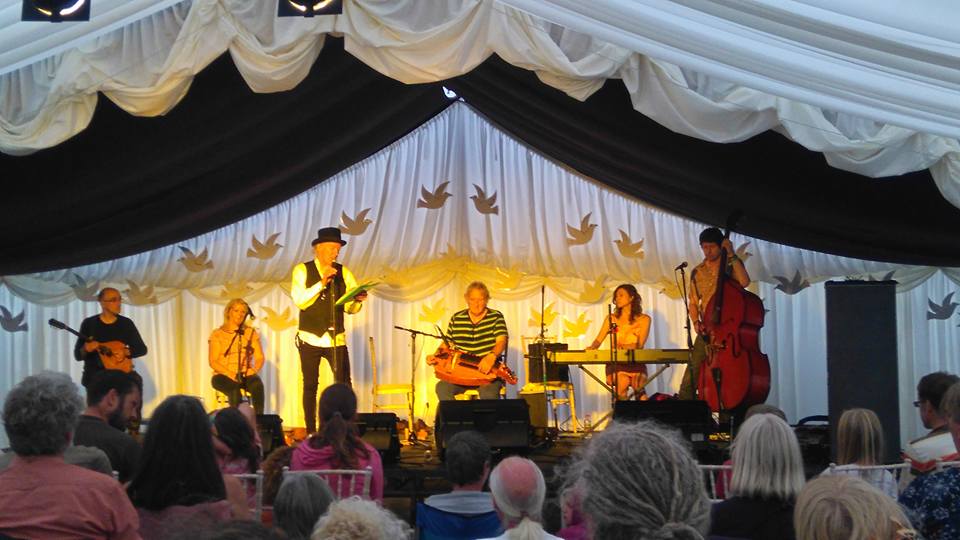 The line-up for this project is Nel (Surfquake, Churchfitters and ex-New Model Army) on electric guitar and double-bass. Cara Bruns (Surfquake), on keyboards and organ, has a music degree and can play in any style imaginable. Geoff Coombs, (Hosepipe regular and ex-Churchfitters), on mandola  favours Balkan-Klezmer type sounds. Val Woollard and Simon Haines (regular Hosepipe Band, Bof! and Rosewood)  contributed the folkier elements of the music, Val on recorder, flute, bagpipes and bells and Simon on concertina, bandoneon, hurdy gurdy, footbass, musical saw  and vocals. This approach has resulted in a range of completely different styles.
We have now finished composing and recording music for both The Song of the Waterlily and another of Martin's long poems, Black Shuck, a tale about the ghostly black dog which is said to roam the coastline and countryside of East Anglia and thought by some to be a harbinger of death. We've also performed The Song of the Waterlily with Martin at Folk East Festival (see photo above) in August and at Essex Poetry Festival in October.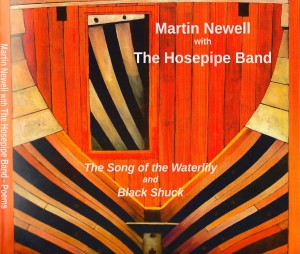 You can find details of our new CD (above) on our music page. We also have a website dedicated to this new project at Martin Newell with the Hosepipe Band.
July 13 2015
Long before The Hosepipe Band and Bass Instincts, there was The Hooligan Band, an unwieldy 11-piece ceilidh band which crept on the Essex dance scene in 1979 when we played for Castle Hedingham Folk Club Christmas Ceilidh. The band had emerged from an earlier group, Poor Man's Burden, who performed the folk opera Captain Swing. The Hooligans played regularly throughout East Anglia for the next three years.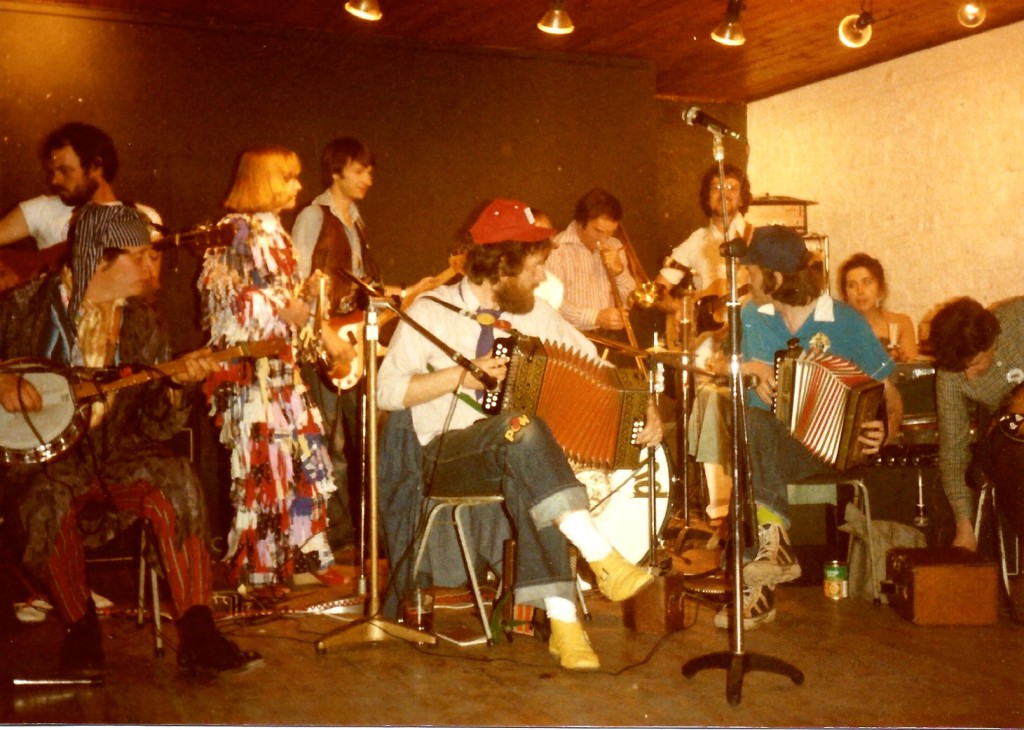 From left to right in photo
Adrian May (banjo, ukulele, vocals); Terry Kaliski (guitar), Liz Manchester (percussion), Stuart Moffat (bass, electric guitar), Simon Haines (melodeon, concertina), Geoff Elliston (trombone), Graham Alston (guitar, banjo), Phil Manchester (melodeon/fiddle/mouthorgan/calling/vocals), Elaine Barker (piano/calling/monologues), Paul Riley (guitar). Not visible in photo Pat Alston (drums)
Phil Manchester, who has recently passed away, was the creative inspiration behind the band and responsible for much of the unusual English/Cajun repertoire. There were some crazy songs too: Adrian May's There ain't no surfin' down in Shoeburyness and Riding along on the crest of a wave, and not forgetting Elaine's monologue: The Runcorn Ferry. The band never made a recording of their own but contributed a few tracks to Buttons and Bows, LPs on Richard Digance's Dambuster label.
Here are few typically raucous live recordings by a band ahead of its time.
Captain Swing
Buttered Peas
Surfin in Shoeburyness
Cajun Waltz
Walter Bulwer's Polkas
Is the food ready
March 30 2015
We had a busy weekend: Friday we played for Unicorn Ceilidhs at Baldock Town Hall. Apart from the flight of stairs we had to carry our PA gear up, it was a great night with a friendly crowd. Ada Hughes called expertly, Geoff stood on a step to make himself unnaturally tall, my chairs empty because I took the photo.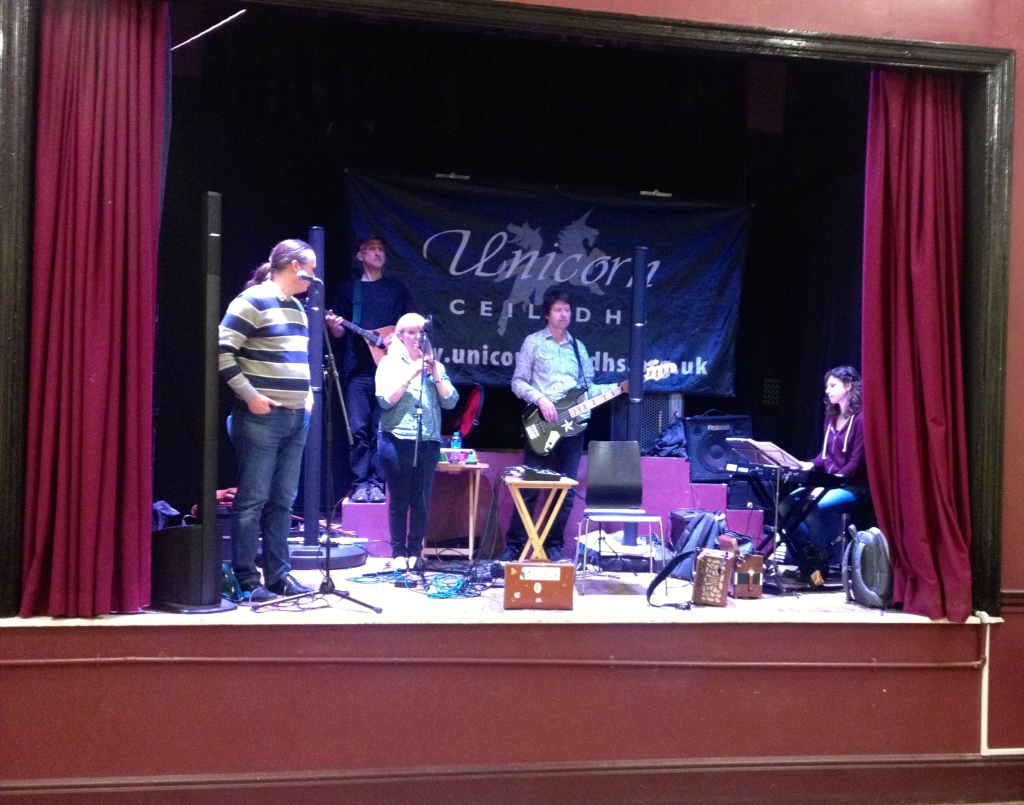 Then on Saturday evening we played for a jolly sixtieth birthday party very locally in Suffolk.
February 14 2015
Most of the evening of Valentine's Day we played for other people to dance, but during the interval, the organiser put on some more modern music and some of the band got carried away. (As you can see below, they should have been!)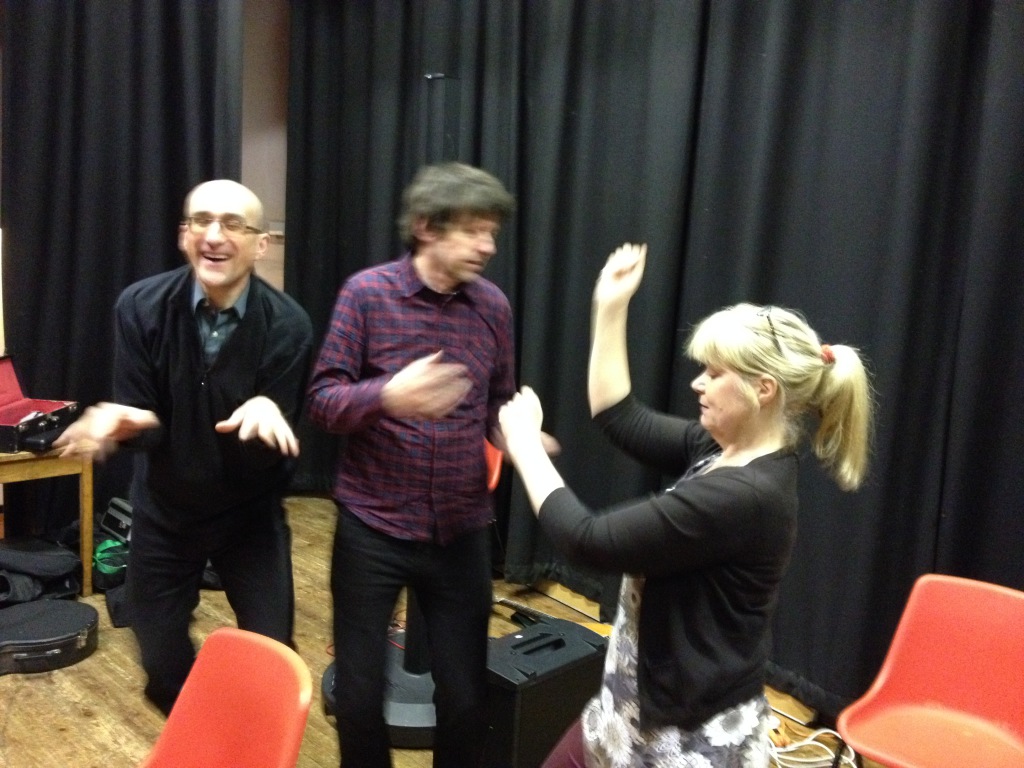 January 28 2015
We're playing for White Horse Ceilidhs this Saturday 31st at Grove Village Hall near Oxford, with caller Ian Nichols. Bass player for the evening is Nelson Surfquake, ex-New Model Army and occasional member of The Churchfitters.  It's bound to be a good night.
January 1 2015
Another great New Year's Eve gig at Cecil Sharp House in Camden organised by the Friends of Cecil Sharp House. With Sibby (Rob Sibthorpe) calling, there's never a dull moment. The dance is a five-hour stretch without a break which is knackering for the band, but great fun. It's just wonderful to see the three hundred or so people there enjoying themselves so much. The Hosepipe Band line-up was the same as last year (see photo below). Here are a few photos of the evening.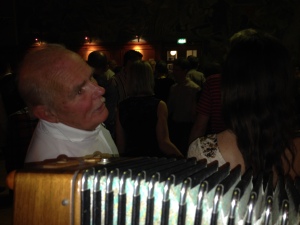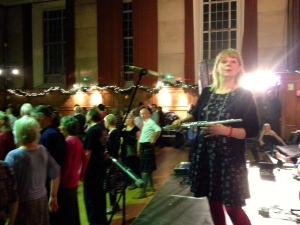 The view from behind the melodeon                        Val not expecting to be photographed
August 13 2014
You will see that we have added a page about a previous band, Bass Instincts which is now available with its original 1980s line-up, on a very occasional basis for ceilidh bookings.

You can read about the band and listen to some great samples here.
January 1 2014
We had another great New Year's Eve at Cecil Sharp House. With over 300 people there, the event was sold out weeks in advance. Sibby (Rob Sibthorpe) was doing this gig for the eighth year running –  it was our fourth. Here's a photo of the night's  line-up – taken in front of the Christmas tree. From left to right: Nelson Surfquake (drums), Cara Bruns (keyboards), Simon Haines (melodeons), Phil Lyons (bass), Val Woollard (recorders, bagpipes, desk bells), Tom Miller (electric guitar,mandolin), Geoff Coombs (mandola)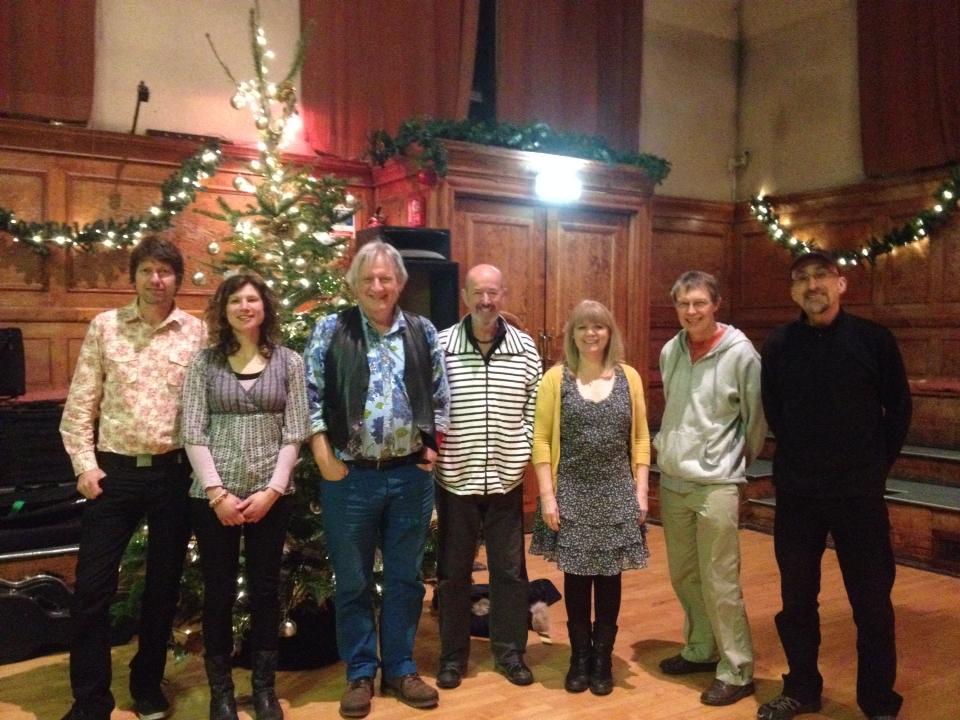 And here's Sibby in action: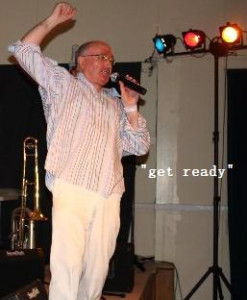 December 24 2013
We're now looking forward to playing for the New Year's Eve ceilidh at Cecil Sharp House in London. As usual it's non-stop dancing from 8.00 – 1.00 without even a break at midnight this year, as this year there is no piper to pipe in the new year. But it'll be a great night. This year in addition to Nelson Surfquake on drums, we have Cara Park on keyboards. Nel and Cara also perform as the duo Park and Ride – performing weird and wonderful things on guitar and keyboards / stylophone, such as Telstar, Je t'aime and The Flight of the Bumblebee (still below).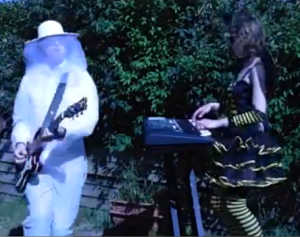 November 17 2013
It was fun last night playing for Ceilidhs on the Move at Clopton Village Hall between Ipswich and Wickham Market. The enthusiastic organisers of Ceilidhs on the Move people always put on a good show and Saturday was no exception. Most dancers there did every dance. For the band it was great to keep playing and not have to stop because everyone was puffed out. Phil Lyons called a range of dances which went down very well.
October 28 2013
2013 marks the 20th anniversary of the Hosepipe Band. In that time we have played over 500 bookings – dances and concerts and undergone various changes of personnel. Geoff Coombs, Simon Haines and Val Woollard have been band members since the beginning, we have had three long-lasting bass players, Stuart Moffat, Nick Sadler and Matt Haines, as well as drummers and other part-time players. Our largest line-up is on New Year's Eve when we play at the home of English folk song and dance, Cecil Sharp House. We have 8 players on these wonderful occasions when we play from 8.00 pm until 1.00 am with no break, save for ten minutes at midnight when a piper plays for Auld Lang Syne. We are playing for this occasion again this year – click here for full details.
October 16 2013
Tom Haines, our drummer on October 6 , was one of four finalists in the Brussels Jazz Orchestra's jazz composition competition. Along with the other finalists, two from the USA and one from France, Tom went to Brussels to conduct the BJO playing his piece: Whistleblower.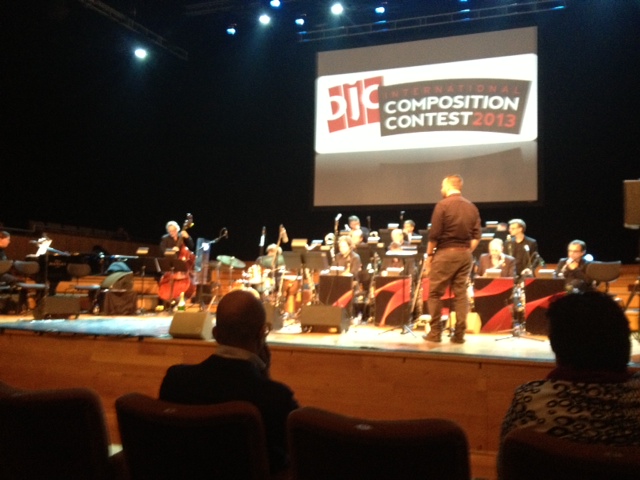 Not only did Tom win the main prize, he also won the audience award. A wonderful night. You can hear Tom's winning piece on Soundcloud.
October 6 2013
The next public Hosepipe Band ceilidh gig is Saturday 12 October in Leicester for Red Fox Ceilidhs. Our caller for the night is Ben Robinson. This is an unusual night for us as we have drummer Tom Haines, from Bedworth, playing with us.
October 5  2013
Hosepipe Band bassist, Matt Haines, has a single available for download from CD Baby. It's  his catchy song "Home for Tea".